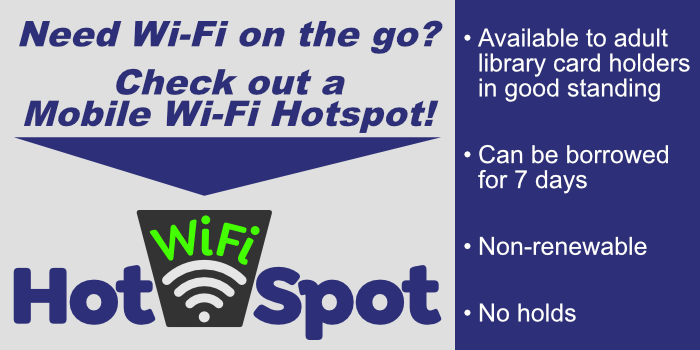 Do you have limited or no internet service in your home? Are you going on a trip to a remote location with no WiFi service? Well, now there's a way you can get connected in unconnected areas!
HOTSPOTS are now available to check out at the McKinley Memorial Library! Our HOTSPOTS provide wireless internet access wherever you need it. Borrowers can connect up to 15 devices at a time to stream movies, music, audiobooks, or search the internet.
To check out a HOTSPOT, you must be an adult library card holder (at least 18 years old) in good standing (no overdue items or fees on your account). Patrons must sign a Mobile Wi-Fi Hotpost Device User Agreement each time they check out a HOTSPOT.
HOTSPOTS may be borrowed for 7 days and are non-renewable. Once the HOTSPOT​ becomes overdue, it will be deactivated. The overdue fee is $3 per day. Please make sure all contents are returned in the case. There will be a replacement fee of $150 for a missing or damaged HOTSPOT.
Please return HOTSPOTS to the McKinley Memorial Library Circulation Desk.
Request to borrow a HOTSPOT by visiting the Circulation Desk or calling 330-652-1704 ext. 1. If you recently returned a HOTSPOT, you must wait 24 hours before requesting another one.
If a HOTSPOT is returned in the outdoor return drop, the check-in time will be recorded when the book drop is emptied and checked in, which may take up to 24 hours.