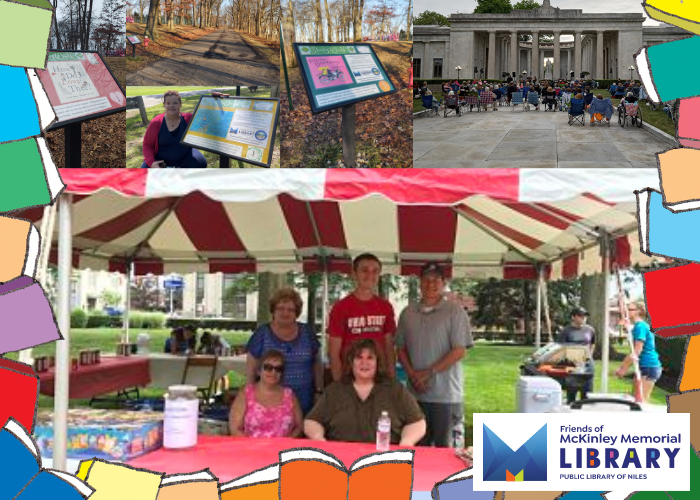 The Friends of the McKinley Memorial Library is a non-profit organization which raises funds to support the Library's needs for materials and programs.
---
McKinley Memorial Library and the Board of Trustees recognize and thank the Friends of McKinley Memorial Library for their help and support! We are grateful for the Friends continuing support of the StoryWalk at Stephens Park, the McKinley Memorial Music on the Lawn summer concert series, and other programs here at McKinley Memorial Library.
Money from membership dues and annual book sales helps to support Library activities and services. The Friends are also dedicated to promoting use of the library and the McKinley Birthplace Home.
Officers:
Kathleen "Kadie" Bowen, President
Barbara Scofield, Vice President
Susan Giannetti Longacre, Secretary
Linda Raschilla, Treasurer

Membership is open to any person interested in the purposes of this organization. 
The following levels of memberships are available:
A. Student Membership (K-12).......... $5/year 
B. Associate Membership ................. $10/year
C. Sustaining Membership.................$25/year
D. Family Membership........................$30/year
E. Patron Member ..............................$50/year 
F. William McKinley Lifetime Circle.....$100
    Lifetime members names will be displayed on a contribution board at the McKinley Birthplace Home
Memberships and donations are tax deductible.
Check with your employer for matching fund programs.
Like you, the Friends appreciate the privileges of an outstanding public library, and work to make a great place even better. The organization was formed to:
Stimulate increased awareness and interest of the Library
• Promotional material produced
• Usage of Library has increased

Encourage increased financial support, public and private.
• Purchased podium and equipment
• Sponsored quality children's programs for summer reading

Promote greatest possible use of the Library and Museum
• Hosting regional Library meetings
• Tours of facilities

Sponsor cultural and related programs for the community
• Entertainment for the Summer Reading Programs
• Summer Lawn Concerts
• Annual Friends Picnic